Production – Outlander Glyos compatible Figure
The making of the outlander figure
The Outlander was sculpted by hand and intended to be a figure that can both stand alone or be broken down into its core components and reconfigured into several different silhouettes. The Outlander also utilizes the Glyos peg system meaning it is compatible with each and every figure Onell Design and all of it's sister companies have available. Each outlander comes equipped with a helmet that fits safely around their head for deep space exploration. The Outlander figure is just under 3inches tall.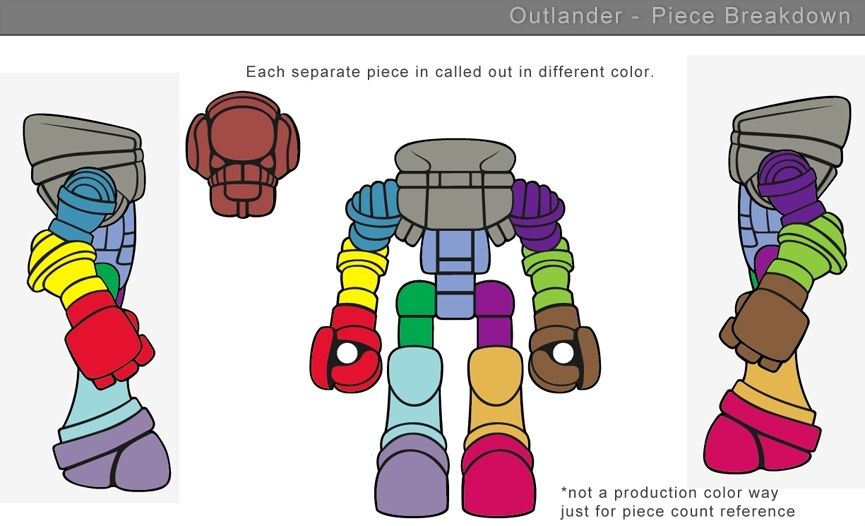 Outlanders that are currently available can be found here.


Production – Anomaly Sculpts

Click for larger view
These are the master Sculpts for the production Anomaly mini figures. These were sculpted at a 1:1 scale with no scaling up or down at the factory. The material they were sculpted in was Aves Apoxie, a two part clay type mixture that hardens over time. These master sculpts were shipped off to china, steel molds were made and soft PVC figures will be run from the mold. Below are production colorways we've run these figures in so far.
Production – Color ways
— Production – First run Purple —

Click for larger view
— Production – Grey Proto-Phase —

Click for larger view
— Production – Clear colorless —

Click for larger view
— Production – Tainted Sand —

Click for larger view
Anomaly Sculpts
Hand Cast – Anomaly Sculpts
Doctor Styre / Subject head Sculpts (Glyos Compatible)
——– Production Heads ——–
——– Master Head Sculpts——–
These heads are all hand sculpted and intended to be used on Outlander figures or any other Glyos compatible figure. Some of them are currently available for purchase in the store.